I received a call from my sister wanting to know how to make some crochet slippers that I have been making for nursing homes, friends and others that I made the pattern for. While we were talking I was telling her about the Fold-A-Pages that I have been producing for awhile. She explained and said "I'll bet my grandchildren would love them. "
There is nothing like these pages and I knew she was right, Her grand kids would love them. So about 6 weeks ago I started sending them to her daughter. Her daughter sent me a picture of her little one's completion of one of the pages, then today I received this in the mail.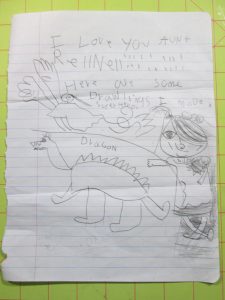 Isn't it great! Children are wonderful!